Writing Letters to Veterans
BRAVE aims to display appreciation towards veterans in hopes of improving the well-being of former service men and women. Our main method is by sending care packages to veteran retirement homes filled with letters and other items meant to brighten the day of veteran residents.
We would love your support! Please take time to either type up a letter for us to print and send to a veteran, or send us hand-written letters at our location for us to include in our care packages! If you'd prefer to write your own letter and give it to a veteran you personally know, take a picture and tag us on Instagram or add it to the #braveorganizationletters hashtag. Thank you for showing appreciation to our veterans!
Guidelines for Letter-Writing
Hand-written letters must be legible with large print. No worries if you're not artistic– make your card as what you'd like to receive.
Avoid religion and politics, if possible. Your letter should resonate with anyone.
Please exclude the date (day, month, and year).
Be creative! Recipients love it when the letters are personal. We encourage you to make your letters detailed, thoughtful and heartfelt. If you are hand-writing a letter, feel free include a drawing!
Be kind and thoughtful (more than talking about yourself). This is a one-way letter exchange, meaning you will not receive a letter back, so remember that no reciprocation attached is part of the beauty of your act of kindness, and the recipients don't feel burdened by feeling obligated or being unable to respond.
Leave your enveloped letters unsealed and unstamped and put them in a larger envelope or box to send.
Share your act of kindness! We love seeing photos of your letter writing, and it helps promote our cause more than you know. Tag us @brave.mission
Send us as many cards as you can!

We accept letters year-round, and your contributions are greatly appreciated.
Send a Hand-Written Letter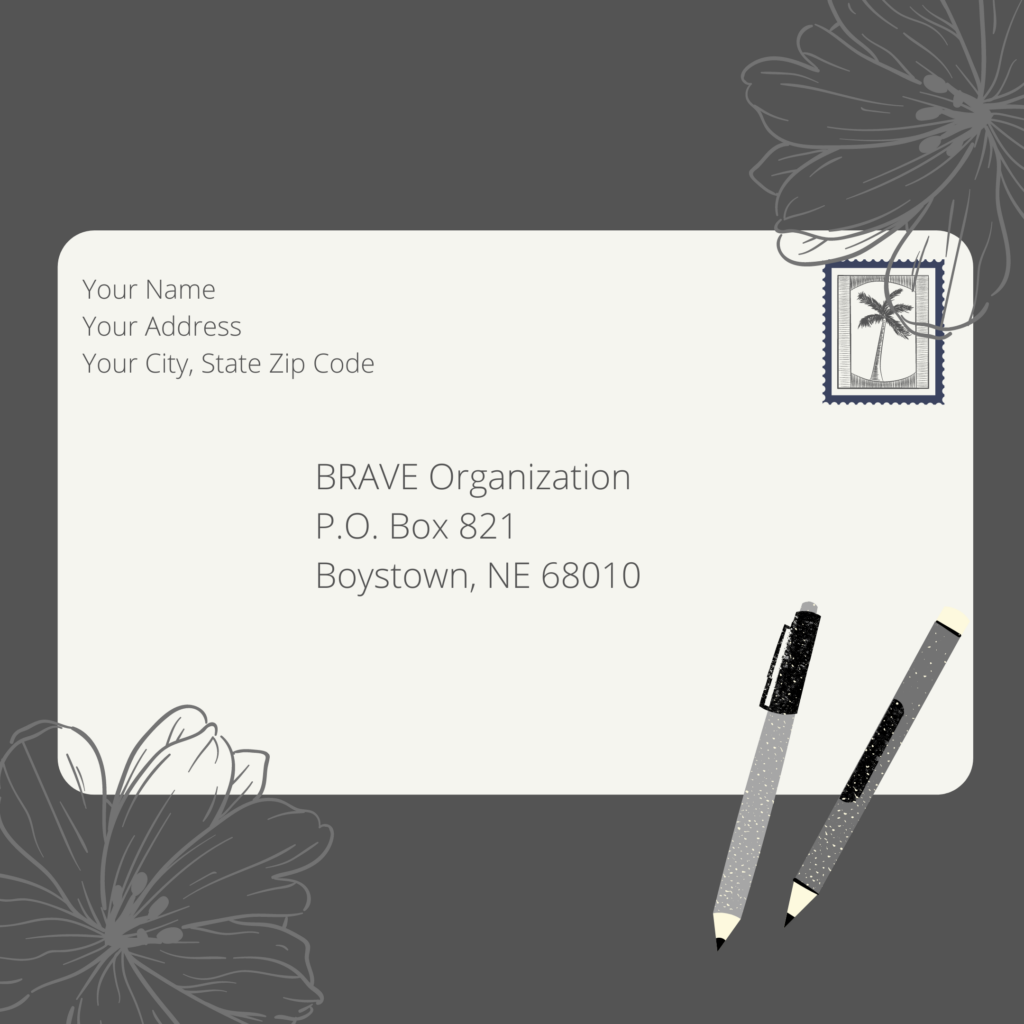 If you'd prefer not to write a letter, please consider writing A Note of Cheer: a short message of positivity and appreciation. These will be compiled and sent together in small collections with letters to veterans. Anything you are able to contribute is greatly appreciated!
First Name and Email form boxes are shown so that when sent, the messages will be signed off with your name, and BRAVE can send you a confirmation email once we send your letter or Note of Cheer. If you are uncomfortable providing this information however, you are still able to submit a letter anonymously.